A Little Bit of Déjà Vu
by
Laurie Kellogg
Book 1 of Redemption series
Genre: Romance
246pp
I give it
4 stars!
Excellent, and only ONE eye roll!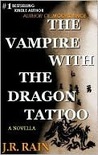 The Vampire With the Dragon Tattoo
by
J.R. Rain
Genre: Fantasy
70pp
I give it
4 stars!
I wasn't sure if this was going to be a parody of The Girl with the Dragon Tattoo, which it wasn't. This short story is a good brief sample of Rain's writing for those unfamiliar to his work.
View all my reviews
I also listened to about 20 chapters of Big Driver by Stephen King and found myself disappointed yet again that I purchased an audio version of a story that I'd already read. *sigh*

Total Books Finished: 9
Total Pages Read: 1404